Ciufu Oana Simona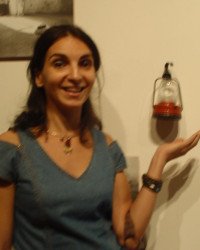 Ciufu Oana Simona
Adresa: Str. Turnu Măgurele, nr 5 bl. C1b, Ap. 63, sector 4, Bucuresti – România
Tel: +40
e-mail:
sim_paint@yahoo.co.uk
Nude 2012 – canvas oil 40 cm/50cm
Prezentare Demers Artistic
The formulation of my speech with simbolistc- religious valences , start from the relation whence anchor human with God.
The problem of the extraction from the deep of the earth may be similar to extraction from the deep of the human being , the courage to poke in the entrails of the nature , see an profound human act.
Simona Ciufu getting trough into true " zone " whence orientation criterions are will, patience, contemplation in painting materialitys.
With good science of construction , with rigurous organized compozition she know how to play with diverse materialitys , she have preferences for bigs projects, for facility gesture but good mentaly controled.
website link: ,