Mini Maxi Prints Berlin
On

June 28, 2019

http://www.niscom93.ro
All professional artists are invited to participate in our Open Call Graphic Prints Berlin. This special graphic exhibition was established by Galleri Heike Arndt DK as "Graphic Prints Berlin" and has been a recurrent event at Galleri Heike Arndt DK in Berlin since 2014.
From 2019, for the 5th anniversary of the exhibition, we are happy to announce that the exhibition will present a fresh profile. Galleri Heike Arndt DK will collaborate with Galerie Kuchling for a new edition of the well-established exhibition. Since both galleries share the same neighbourhood in Berlin-Friedrichshain along the Karl-Marx-Allee / Frankfurter Allee, their mutual goal is to create a greater and more diverse platform for international, contemporary artists in this area and beyond.

The collaboration of the two galleries makes it possible not only to extend the amount of works but also the sizes which will be accepted. To give this productive change a name, we decided to redefine the exhibition as "MiniMaxi Prints Berlin".
By participating in this print exhibition, you are given the opportunity to exhibit your work in one of the two galleries (It will NOT be possible for artists to choose the gallery to be shown ). Also, it is the perfect opportunity to develop your network within graphic art connecting you to many other international artists.
The works with which you apply need to be available for the time period of Mini Maxi prints exhibition.
For applying see application form below.
You are welcome to apply for both sections! But if you wish to apply for both, please complete 2 separate application forms!
Please DON'T mix the sizes in your application as you will NOT be accepted!
Section A "MINI"
Form for "MINI" application here: MINI PRINT FORM
All multiple printmaking techniques are welcome
Size of the print (including signature): 30 cm x 30 cm (max)
Size of paper: 40 cm x 40 cm (max)
Each artist can submit 3 prints minimum and 6 prints max
Section B "MAXI"*
Form for "MAXI" application here: MAXI PRINT FORM
All multiple printmaking techniques are welcome
Size of the print (including signature): more than 60 x 80(min)
Size of the paper: more than 70cm x 90 cm(min)
Size of paper: 200 x 300 cm (max)
Each artist can submit 3 prints minimum and 6 prints max
*Please be aware that our concept is not "the bigger the better". The quality of a print is not defined by its size – the size is just one of many qualities that makes a good print. And a good print can either be small or big.
Techniques accepted:
We only accept multiples prints.
Lithograph, Screen Print, Woodcut, Etching, Drypoint, Linocut, and similar graphics techniques
No monoprints or inkjet prints,digital prints or photo-based images.
We will complete 3 rounds of screening, based on the images included in your application. If you successfully pass these 3 rounds and are chosen to be included in the exhibition, you will then receive an email from us asking you to send your artwork to the gallery. Please send us the prints in good condition and unframed to our address and submit a 'Work Description form' on the back of the work and as a separate printed document.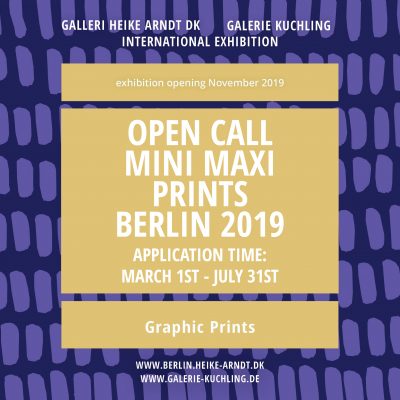 Only when accepted please send your work to:
Galleri Heike Arndt DK
Voigtstrasse 12
10247 Berlin
Germany
Tel: +49 (0)30 48 62 41 52
or
Galerie Kuchling
Karl-Marx-Allee 123
10243 Berlin
Germany
Tel: +49 (0)30 12085265
Remember to indicate the title of the work, the technique and your name on the backside of the work written with a pencil.
Artists selected for Miniprint 2014: Miniprint 2014
Artists selected for Miniprint 2015: Miniprint 2015
Artist selected for Miniprint 2017: Miniprint 2017
Artist selected for Miniprint 2018: Miniprint 2018
Important dates:
Deadline for Application: March 1st – July 31st
Exhibition opening: November 2019 (date to be defined)
Important note
There is no submission fee, but the artists are alone responsible for the packaging and shipping costs of the prints to and from the gallery. Please be aware that the gallery holds no responsibility for any damage or loss that may occur during transit or installation. We handle the prints with the best care possible. We have not had any damages in 25 years' time handling art pieces.
Once accepted, a minor exhibition fee is required of 38€ to be paid, to cover the costs for screening. Usually, there will be made flyers and a poster for the exhibition featuring each artist.
We need to have the works chosen to our disposition for the following 12 months.
(as we might implement them in the following exhibitions)
For sales, the galleries take their usual commission.
(Work that has been sent unsolicited to us, we do not take responsibility for!)
Please ensure that you apply in the right form based on the size of your work. If you would like to apply to both Mini and Maxi print, please ensure that you apply to both forms separately
Articol preluat din http://berlin.heike-arndt.dk/about-us/competition-and-events/mini-prints-berlin?fbclid=IwAR0MW4ulO0cwOMWtuGjhhi5nT0ntHVhSek44Dw7siOAqgKxGYNGyRECIql8