Oancea Morar Diana Cristina
On

March 6, 2015

http://www.niscom93.ro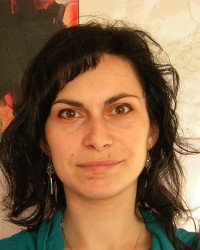 Oancea Morar Diana Cristina
Adresa: Str. Împăratul Traian, nr 54, sc E, ap 58, Bistrița – România
Tel: +40263 222 196, +40740 504 704
e-mail:
diana_512000@yahoo.com
"The-big-picture", acrylic colors on canvas, 60×120 cm.
Prezentare Demers Artistic
Born in Cugir, Alba County High School gratuades "Romulus Ladea" in Cluj-Napoca in 2002, I studied at the University of Art and Design, in Cluj-Napoca, currently PHD level. I participated at group exhibitions at home and abroad. Throughout noted the continued presence of artistic portrait. Whether it is made ​​realistic by old photos like reminders, whether the movement is deformed into a "fantasy" or decorative rhythm occurs, or is the limit of abstraction, it is present. At this time the shadow is the source of inspiration.
website link: dianamorar.wordpress.com