Popa Valentin
On

January 29, 2015

http://www.niscom93.ro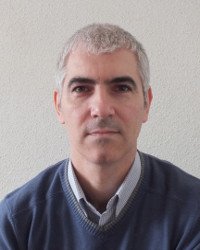 Popa Valentin
Adresa: Str. Zidarilor, nr. 8, Bloc R6, Scara a IIIa, Apartament 62,Galați – România
Tel: +40745 163 713, +40336 803 612
e-mail:
aquarisvp@yahoo.com; valipopa72@gmail.com
Prezentare Demers Artistic
No matter of thematic and techniques diversity, used on artwork, in my pieces there are found together the figurative but the synthesis of forms up till the generalization. In the ball iron technique I have pursued to design inner emotional virtues to this material in order to express as much as convincing artistic message. My artworks are following the volumes in space into an expressing exercise that particularized me throughout my artistic carrier. But my artistic researches are not finishing to a particular technique – I am permanently looking for new expressing methods: from the wood carving that keep the heat of the model (as in "The lie low boy", "The secret", "Germination") to the metal coldness that tries to reduce the forms in spite of surprising the core ideas of tridimensional suggestions (as "Question burden", "Pray", "Genesis", "Wounded Centaur "); from the compositions that use one material as wood or stone (as "Gull" , "Knight", "Maternity") to the compositions that use two or more materials as wood and iron featured in elegant compositions, statics or dynamics overviews (as "Spatial composition", "Pieta", "Sacrifice").
Most of my artworks are in reduced size, but I have succeed to overtake bigger size sculptures as "Phoenix Bird"- ball iron, "Wisdom advice" – steel, "Pieta" and "Sacrifice" – wood, exhibited within different creation camps or creation competitions.
website link: ,